LONDON REAL ESTATE
A BUY OPPORTUNITY
For the first time in over a decade, the London real estate market can offer very attractive investment opportunities for the knowledgeable and well-advised investor.
As London continues to recover from the global pandemic and more workers return to their desks, now is the perfect time to acquire real estate assets – but the window of opportunity is likely to be short.
Residential Opportunities
During the Covid period, many London residents moved to suburban or rural locations to escape the city and most overseas students stayed in their home countries. Both of these trends have reversed – increasing demand for accommodation to buy and to rent. In addition, London's population continues to expand but housing remaining chronically undersupplied.
The impacts of the failed 'Truss Budget' have been largely reversed and the financial markets have stablised. Five yearly SONIA rates have fallen from over 6% to 3.6%, bringing down the cost of debt and mortgages since October 2022. During the same period, the UK economy fared better than had been forecast – avoiding a recession, at least in the short term.
House prices fell for the fourth consecutive month in December 2022, down -0.1%, which put annual growth for 2022 at 2.8% according to Nationwide. This was due to strong price growth up to Q3 and price falls over Q4. However, trends remain difficult to identify – Rightmove's latest house price index shows the average price for a house has in fact jumped by 0.9% in the past month.
Although real earnings remain under pressure, Savills currently forecasts that residential values look set to increase in all locations over the next five years: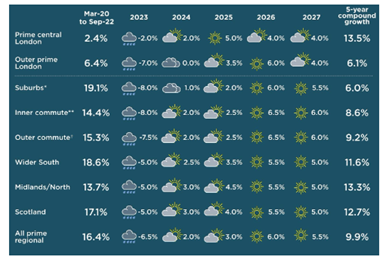 Bearing in mind that prime London residential values remain below their 2014 peak, the first half of 2023 appears to be a good time to buy – fewer purchasers, some distressed sellers and rising rental values.
Commercial Opportunities
As UK interest rates have risen, yields for London commercial real estate investments have also increased – pushing down values in many locations.
Some areas of London continue to suffer from 'long COVID' – in the City of London and Canary Wharf, which primarily serve office workers from Monday to Friday with little weekend trade, footfall remains well below 2019 levels. Other locations which offer 'experiential retail' (ie places where you can shop, eat, drink and play) have recovered well. Soho is a good example of this phenomenon – whilst there may be fewer office workers on a Monday and a Friday, the area has a growing resident population and remains a popular meeting place for those working from home or coming in from the suburbs.
Trading conditions for retailers and restauranteurs remain tough, with inflation impacting supplies and labour costs rising. Nevertheless, many operators continue to prosper and are taking the opportunity to increase and/or upgrade their estate. Over the past 12 months, we have let units in Covent Garden and Farringdon to Ole & Steen and Gail's – which are both 'up market' coffee/grab and go specialists.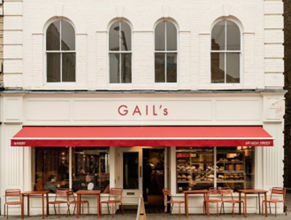 Furthermore, our tenant Noble Rot has just rented a third property for a new restaurant in Mayfair's Shepherd's Market.
Values have fallen by as much as 25% from their peak in 2018 for prime retail and restaurant investments, making today a really interesting time for investors looking to make their first investment or seeking to expand their London property portfolio.
How Consulco Can Help You
Consulco has been active in the central London property market from 2010, acquiring and managing over 40 investments since then. Last month we launched our newest direct real estate investment services, assisting overseas investors to acquire and manage residential properties in central London.
Consulco's direct real estate investment services include:
Structuring strategies for property investments
Research, selection, and acquisition of properties
Debt arrangement and management
Property management and development
Property and financial risk management
Finance management including accounting and reporting
Are you interested in learning more about our new direct real estate investment services? Reach out:
Nicosia: +35722361300
michael.tannousis@consulco.com
costas.koushappas@consulco.com
Limassol: +35725057057
christos.hadjisotiris@consulco.com