Following the recent assessment by Morgan Stanley Capital International, Consulco ranked 15th amongst the 160 competitors that specialise in retail and commercial real estate portfolio management in central London. Our annual return for 2019 was + 6.28% which stands in sharp contrast with the relevant London's index of -2.29%.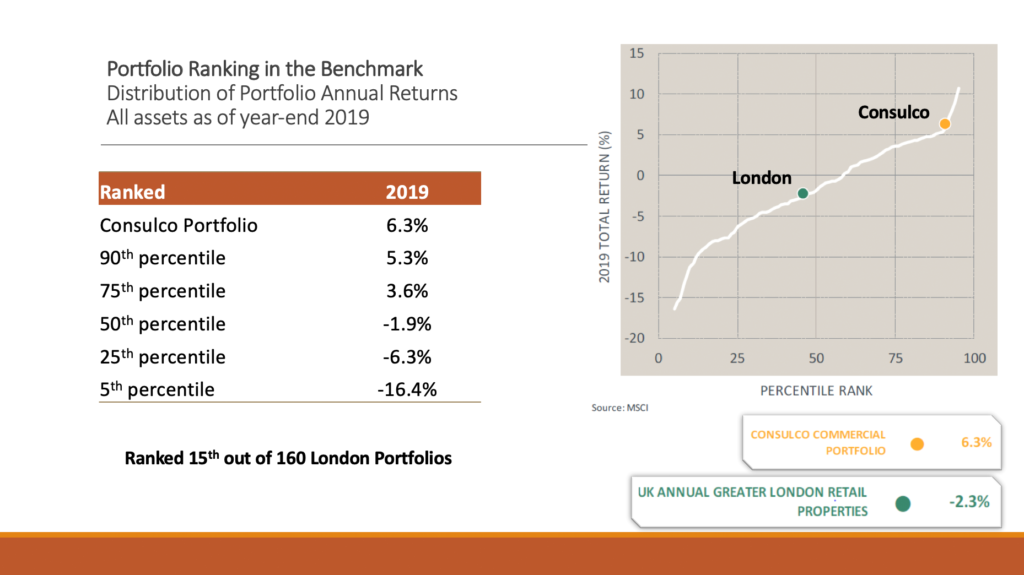 According to MSCI's official assessment, Consulco's portfolio in London commercial real estate, has recorded an annualised net return of 11.1% for its clients for the period 2011 – 2019.
MSCI is one of the world's leading independent providers of market indexes and investment analysis tools to the global investment community comparing the performance of investment products in real estate, equities (such as bonds and deposits) and portfolios that combine multiple markets and products.
Consulco, through its offices in Soho Square, has been systematically engaging in the real estate investment market in London since 2009, focusing in developing, renovating and expanding commercial buildings. The ultimate goal of the group is to create capital gains and rental income increases through renovation, expansion and development of commercial properties purchased in London. Amongst our tenants you can find prestigious companies such as Costa Coffee, Ben & Jerry's, Tesco, Ladbrokes and Boots.
This investment strategy has been pursued for the last 9 years by the same strong team, composed of professionals with decades of experience and expertise in real estate in the UK, and to this day continues to secure steady profits for its clients.
In a recent interview, Marios Hajiroussos, Director of the Group stated: "The fact that our remarkable results are verified by MSCI, furnishes a reassurance to our clients as regards to the Group's overall effectiveness in choices, decisions and strategy implemented all these years. We continue to adjust our strategy and forecasts, considering the risks and consequences of Covid-19. It is well known that opportunities are born during crises, but it takes patience, composed management and correct timing to bring these opportunities to fruition. "