Last year, London drew more global investment in financial businesses than any other city, highlighting the Square Mile's appeal to investors even after the United Kingdom's exit from the European Union.
According to a report released last week by the City of London Corporation, the United Kingdom's capital attracted 600 million pounds ($764 million) of investment towards 114 financial and professional services projects in 2021. This indicates that London has outperformed Dubai, Singapore, New York, and Paris. Financial technology enterprises received one-third of the investment, while technology companies that assist them received about a fifth.
Financial Attraction
London is world's top city for financial services investment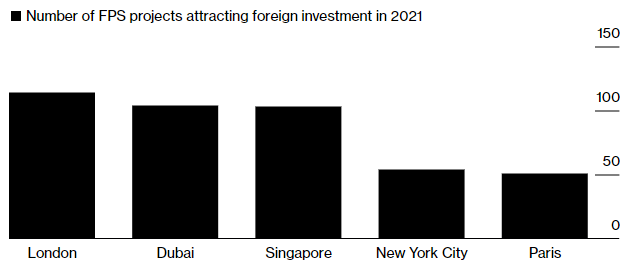 Dubai was the closest rival, with 104 investments in financial and professional services. In comparison, Singapore received 103, New York 54, and Paris 53.
When comparing nations for financial and professional services investment, the United Kingdom attracted 186 such projects assessed at 1.1 billion pounds in 2021, ranking second only to the United States, which received 234 such projects. The study, which did not specify the value of other nations' investments, serves as a reminder of finance's lasting role as one of the United Kingdom's most vital exports.
"We must future-proof the sector and make sure we remain globally competitive," Catherine McGuinness, policy chair at the City of London, said in the report.
According to the report, the number of financial and professional services projects drawn to the UK increased by 8% in 2021. However, there is still a long way to go before reaching pre-pandemic levels, since worldwide foreign investment in finance and insurance decreased by 30% between 2019 and 2020.
Vincent Keaveny, lord mayor of London, said: "Despite the challenges of the pandemic, the UK's financial and professional services sector has proven resilient. "The UK's offer to global investors continues to go from strength to strength due to its unique combination of time zone, language, legal system, global talent and financial services ecosystem."
According to the study, fintech companies were the greatest source of financial service investment into the United Kingdom, accounting for one-third of total investment. Payment firms Klarna and Airwallex, as well as financial solutions provider Portfy, were among them.
Overseas Capital
In 2021, FinTech firms were the leading source of foreign investment into UK finance.