Introduction
For London as a global metropolis, and the UK as a whole, 2020 was a year of severe lockdowns and, of course, Brexit uncertainty. As a result, a string of concerns arose regarding the investment climate in the UK as well as the attractiveness of London as an investment destination.
Global business location
London remained a hotspot for global activity despite falling global investment volumes. As far as commercial property is concerned, cross border capital accounted for 53% of all 2020 investment volumes, cementing the UK as a destination of high interest from overseas investors and first among major economies.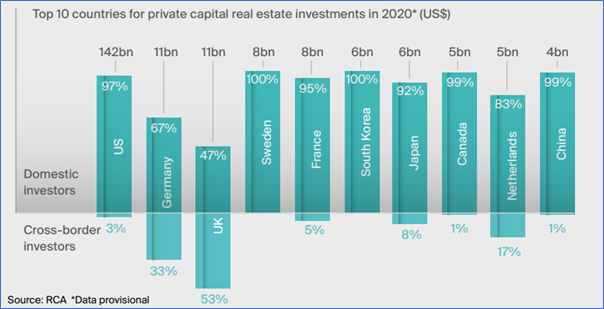 Figure 1- Source: RCA* DATA provisional
As shown by its resiliency over the previous year, London is likely to remain the world's most important financial hub. London's attractive offer, in comparison to other global centers, is evidenced by an innovative ecosystem, strong corporate infrastructure, access to skilled workforce, and an accommodating regulatory framework.
London thrives as the world economic metropolis
London is the 2nd most competitive city in the world for financial services, according to Global Financial Centre's Index
The UK's financial regulations are either superior to those in the EU or set at a global level

Higher UK regulatory standards set the norm for EU regulation in several areas. Examples include Retail Distribution Review (RDR) implementation in 2013, tougher Bank of England stress tests in 2014 and ring fencing of retail banks from their commercial arms from 2019

The UK has one of the lowest corporation tax regimes in Europe, lower than any other G7 country
The 2020 KPMG Technology Industry Innovation Survey ranks London 2nd following Singapore
The UK ranks 8thin the world in terms of ease of doing business according to Doing Business 2020 report
The UK ranks 4th as the most innovative country in the world, according to the Global Innovation Index report 2020
The US and UK remain the leaders in university rankings
The UK ranks 3rd in the Portland 30 Index of Global Soft Power
According to the Shanghai global ranking on economics education, the UK has the best universities in Europe for economics and finance education
It has the advantage of the English language, the global language of finance, business, accounting and academia, which is spoken at a useful level by 2bn people
Why are Global Cities crucial to real estate investors?
The CEO of London & Partners, Laura Citron, mentioned that "International investors have shown real confidence in London, with new venture capital funds setting up here to invest in high-growth companies in sectors like fintech, cyber security and health tech. This is because London continues to be the gateway to the European market and a fantastic place to set up and scale a tech company."
London's competitiveness
According to a new Economist Intelligence Unit (EIU) study report commissioned by Citi, London ranks 2nd in competitiveness behind New York, out of 120 of the world's largest cities. The most competitive cities are identified in the study based on their demonstrated ability to attract capital, business, expertise, and tourists.
London ranks 1st in Global Appeal, and sometimes London is also referred to as the Capital of the World.
London is named the second-best city for property investment in Europe. According to a report from PWC and the Urban Land Institute, investors, developers, lenders and advisers have tipped London as the go-to destination for property investment and development potential for 2021. HNWIs that want to deploy assets outside of their home nation can optimize their portfolios by investing in London real estate, which historically offers a shield against inflation (upward only commercial leases and rising property values).
London is the top Tech hub
The UK is, by far, the dominant European Tech center among the major EU countries, ranking 4th on the Global Innovation Index 2020, only behind Switzerland, Sweden and the US. Naturally, the majority of the innovation takes place in London, which has established itself as a top destination for international tech companies looking to expand or establish an operation outside of their home country, according to data published by the Mayor of London's Inward Investment agency.
Since the creation of the 'Tech City' project in 2008, London has received 916 tech FDI project, more than any other tech city globally.
Most of the world's largest technology companies have made long term expansion announcements and investments into London during the recent years including Apple, Google, LinkedIn, Spotify, Facebook, Microsoft, Amazon UK and now very recently TikTok.
Secular trends and economic fundamentals
According to Gareth Lewis, a real estate director at PwC UK, "It's clear that, at this time of significant uncertainty investors continue to see Europe's core cities as safer bets and there remains cautious optimism". With London jumping up two places to 2nd in the rankings- despite the challenges faced by all major cities – many investors see the long-term value.
House price indices and sentiment trackers have also substantiated a strong and resilient market. The UK housing market performed better than expected throughout the pandemic rebounding at a faster rate than its decline post-Covid.
Strong growth fundamentals
As concerns about the economy and public health subside, the consensus predicts a gradual increase in business and consumer confidence, supported by unprecedented fiscal and monetary support. The most likely scenario is that investment and consumption expenditure will rise noticeably.
The Bank of England Monetary Policy Committee recently passed a unanimous vote to maintain the base bank rate at 0.1% until Q1 2024, incentivizing spending and investment. The current base case projection by the MPC for 2021 is a 14.2% increase in GDP.

Figure 2: Source: Bank of England, February 2021
Regulation reputation
The UK has a top tier regulatory framework and sets the standards for many other major nations.
However, in light of recent economic impacts, the UK government must re-establish itself as a leading, transparent and strategic regulatory business environment. This will reinforce businesses' confidence in the UK market as a location worth investing in. The UK has, by far, the most extensive international tax treaty network, with over 130 double taxation agreements with other nations, as well as the lowest corporation tax rate out of all G20 economies.
The ease of doing business rankings 2020, produced by the World Bank, compared business regulation among 190 economies, ranking the UK 8th out 190. Among the major economies, only the United States (6th) and China (3rd) placed ahead of the UK.
Summary
London and the UK has several advantages which position London as a major global player.
Economic fundamentals, along with an advantageous regulatory environment, global transport hub, knowledge excellence, economies of agglomeration and London's historical importance as a centre of commerce, provide all the necessary foundations for the city's growth and prosperity in a post-Covid and post-Brexit environment. These undeniable strength cement London's status as a dominant centre of finance, innovation and culture for the foreseeable future.
Sources