Rental rates are skyrocketing as individuals in the United Kingdom return to normalcy following the Covid-19 outbreak. The average weekly residential rent in London for one- and two-bedroom homes was £566 at the end of October, the highest level since December 2019. According to a research released by Zoopla, the average rent in the United Kingdom increased by 4.6 percent in the third quarter compared to the same period last year. This is the most rapid expansion in 13 years. Rents steadily increased by 3% quarter over quarter, across the country.
The statistics indicated that, with the exception of London and Scotland, rental growth is near to or above 10-year highs in most regions across the United Kingdom. Furthermore, demand continues to outstrip supply, with available homes 43% lower than the five-year average. London, meanwhile, registered a 1.6% annual bump, the first increase in 16 months
According to Gráinne Gilmore, Zoopla's head of research, this imbalance, as well as the continuous return of employees and students to communities, will fuel development next year. The survey revealed that the South West of England had the strongest rental growth, with a 3.3% increase from June to September and a 9% annual increase in the third quarter.
Another report by Colliers, proves that the end of October witnessed a significant milestone in the London property world, with private residential rental prices climbing back to their pre-pandemic peak.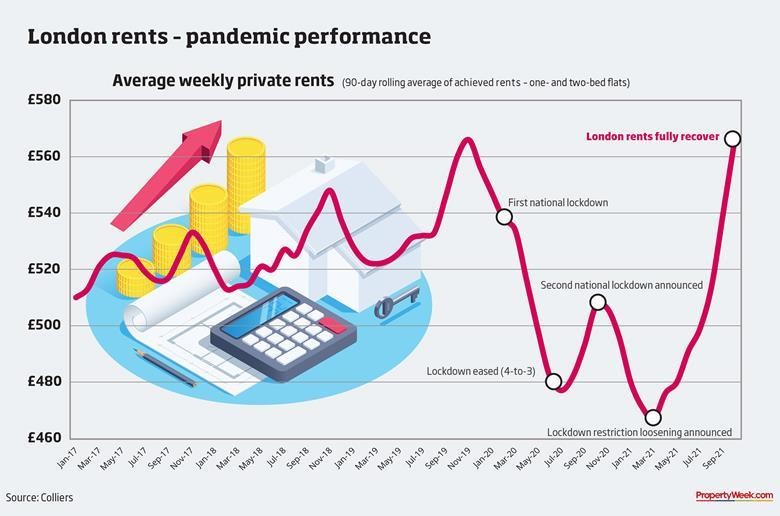 "The same high levels of transiency in the capital that caused rental falls during the peak of the pandemic have led to a rapid recovery in prices, and moving forward, the combining four-fold factors of real wage growth, a net outflow of buy-to-let landlords [reducing supply], the continued return of generally younger workers, and the return of overseas students this quarter will create significant momentum going into the second half of the year," says the report.
During the pandemic, rental values in the capital plummeted by 12% compared to March 2020 levels. The lowest rent was in July 2020, when it was £477.
Rents in London are now skyrocketing, with Colliers figures showing a 21% increase in the previous seven months.
"During the pandemic, residential property prices climbed swiftly and unexpectedly, driven by great demand, [the] stamp-duty decrease, and low lending rates," says Colliers' Andrew White, head of residential.
"The rental market is a true indicator of the actual housing economy, reflecting wages and job confidence." The restoration of rental growth is a positive indicator that demonstrates the UK economy's and housing market's resiliency."
Sources: Property Week and Mansion Global