Executive Summary
Forecast GDP Growth of between 4.5% and 5% in 2022, return to pre-pandemic levels
Expected strong growth in consumer and business spending
Bank of England likely to raise base rates over 2022, expected to reach 1% by end of year
Offices, Logistics and Residential real estate highlighting the strongest growth, retail lagging behind but remaining steady
GDP
The UK economic outlook in 2022 looks positive for several reasons.
The successful rollout and impact of the vaccine programme, resulting in declining hospitalizations, morbidity rates and scrapping of covid induced rules suggests that the impact of pandemic related issues on GDP will be confined to the early part of 2022.
Secondly, the expectation is that there will be the positive impact on growth from consumer spending, as households have accumulated excess savings of around 8% of UK GDP (CBRE, 2022). These savings are expected to unwind over the course of 2022, stimulating demand and therefore further enabling increases in GDP.
Furthermore, overall sentiment from investors and consumers has turned positive. Various investment intentions surveys highlight increased appetite for investment and spending over the year.
Given the above, economists expect between a 4.5% and 5% GDP growth in 2022, followed by a c. 3% increase in 2023, effectively bringing the UK back to a full recovery in GDP by the second half of 2022.
Inflation and Interest rates
Inflation has been an increasingly hot topic given the high levels of increased prices in recent times. Supply chain disruptions, increased energy prices and costs of production have meant CPI inflation reached 5.5% in January 2022 (Office for National Statistics, 2022).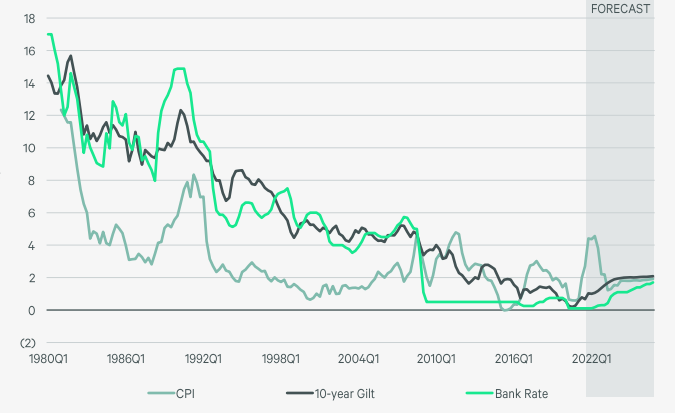 Although inflation has been rising, economists expect that inflationary pressures will begin to dissipate over the second half of 2022 – aided by monetary policy. The Bank of England is expected to maintain stance of monetary tightening over the year by raising the base interest Bank Rate. We will likely see the bank rate rise to 1% by year-end. However, the bank rate will remain at historical lows which is favourable to prime property markets.
Real Estate
Given the macroeconomic backdrop, the question becomes – what does this mean for UK real estate?
In short, UK real estate has performed exceptionally well over 2021 and expected to maintain outperformance into 2022.
UK Offices
UK office real estate performed strongly in Q4 2021. Average Prime yields in London for example remaining steady at the 4% mark, and closer to 3.25% in prime locations like London's West End.
Tenant take-up in office space across the UK totalled 1.5m sqft in Q4 2021, the strongest quarter yet since Q4 2019 and represents an increase of 24% compared to the previous year (CBRE, 2022). Total take-up for the year was 4.8m sqft, representing a fall of 22% on the 5-year average, however, the aggressive demand for space by tenants and massive increase in Q4 2021 implies a strong return to the office in 2022.
Interestingly, the largest share of demand is for Grade A office space, as tenants aim to future proof their business operations with environmentally and socially friendly operations. Business services and the creative industries accounted for 43% of the total take-up.
London especially had a very strong start to the year, as investment volumes totalled £1.6bn in January 2022, over 6 times higher to the figure recorded in January 2021 and 9% up from the previous month. 88% of the capital invested in London offices in January was from overseas investors, highlighting the confidence of foreign capital in the UK and London in particular.
Given investor and tenant demand, the UK office sector is expected to maintain positive levels of performance into this year.
UK Retail
Prime high-street retail yields in the UK stand at 6.5%, with super prime locations like Bond Street commanding yields of 2.75%. Showing relative robustness for super prime retail in the UK.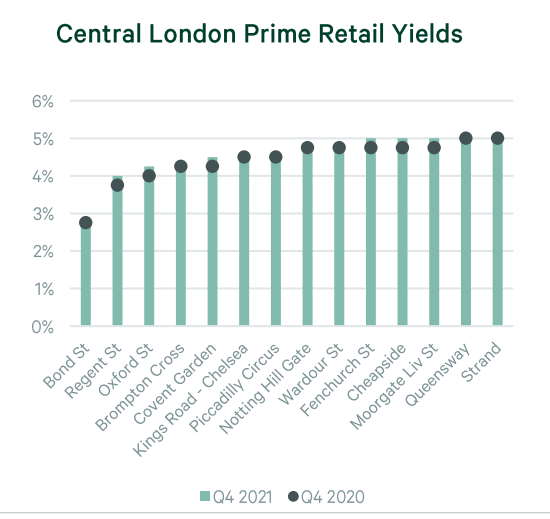 Although retail investment slowed from a very strong £1.3bn in December, the £910m transacted in January was 70% above the five-year monthly average of £540m (Colliers, 2022).
Having said this, UK retail is still reliant on tourists and office workers returning to the high street, which seems increasingly likely given the return of workers to the office and relaxation of covid restrictions.
UK Logistics
The UK logistics sector has been achieving record positive figures, fueled by the rise of e-commerce as the lines between physical and digital retail continue to blur. Investment volumes soared in 2021 reaching £15.7bn in total volume from 148 deals transacted.
Interestingly, the logistics sector boasts the lowest nationwide vacancy rates ever recorded at 2.9%, and demand for space does not seem to be slowing down any time soon. Tenant take-up reached new annual record in 2021 reaching 55m sqft, 86% above the annual average. In Q4 2021 alone, 16.1m sqft of new leases were executed (Savills, 2022).
Supply of logistics assets has also dropped substantially, and coupled with record levels of demand, we can presumably expect yields to continue compressing and large volumes of speculative development.
UK Residential
Demand and prices in the residential sector remain robust. House prices increased by 0.8% in January 2022, making it the strongest start to the year since 2006 (Savills, 2022). This also meant that annual house price growth reached 11.2%. Multifamily prime yields remained steady across the UK and stand between 3.25% and 4%.
According to JLL (2022), there will be strong house price growth in major cities across the UK over the next five years. The main catalyst being mortgaged households who have experienced significant wage growth, increases in housing equity and historically low mortgage rates.
In addition, the ever-increasing shortage of housing in the UK, combined with increased population forecasts, create the foundation for price and rental growth up to 2026. JLL forecasts 4.5% increase in house prices over 2022 and 2023.

Stavros Aristodemou, Financial Analyst, Consulco
Stavros Pantelides, Financial Analyst, Consulco